Walk majoring on the Bradley Branch Canal                        10.30am start

OS Landranger 139     Explorer 219 (Wolverhampton & Dudley) (Old Pathfinder 912 Wolverhampton (South) (SO 89/99) Godfrey Edition maps 62.16 (Bilston), 67.04 (Bradley), 68.01 (Wednesbury)
The walk takes-in parts of Brindley's Old Main Line, most of the Wednesbury Oak Loop/Bradley Branch, a bit of the Walsall Canal and all that's left of the Gospel Oak Branch.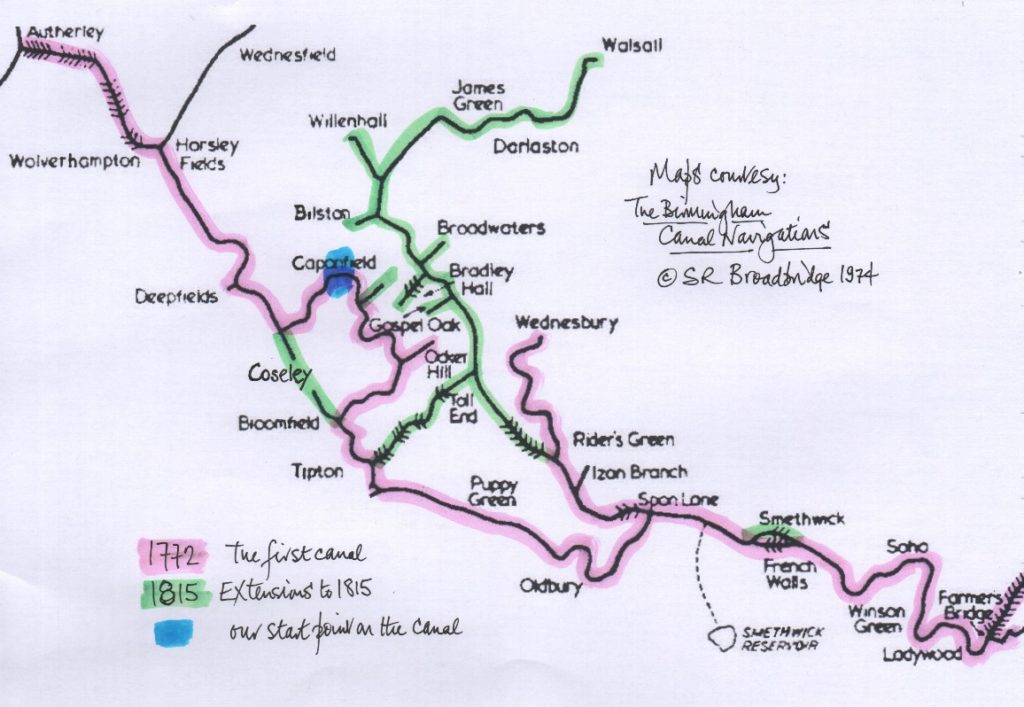 This is a six mile circular walk: 3½ miles before lunch, 2½ after lunch.
It comprises, roughly-speaking: ⅓ operational canal, ⅓ line lost but obvious, ⅓ line lost and subject to guesswork and/or imagination.
Start 10.30 am in Bath Street, SO 951962, WV14 0ST: a straight road on the eastern perimeter of Morrisons supermarket in Black Country Route, Bilston, WV14 0DZ (the dual-carriageway A463).
Travelling west on the A463 from Oxford Street Island, there are signs for Brooklands Sheds & Fencing and Meadwood Industrial Estate. Turn left immediately before the Morrisons supermarket building and keep left into Bath Street. Park here – there are no yellow lines.
Bilston bus station and Bilston Central Metro station are on the north side of the Black Country Route and easily accessible to both the town and our start point.
Anyone wanting to come by boat could moor close to Glasshouse Bridge, the point where we begin our walk on the canal. No doubt C&RT at Bradley Workshops can advise.
Lunch will be taken at 1.00pm at the Gospel Oak, 1 Bilston Road, Tipton see https://www.gospeloakpub.co.uk/
It's a big Marston's pub with a large seating capacity, inside and out. Range of ales by Marston's and Banks, ciders & lagers.
Extensive menu (note, sandwiches on the Lunch Club menu). In order to be as efficient as possible, the pub will appreciate an advance order. If you are coming and plan to eat at the pub, please let the Nibletts know your choices before Saturday 25 May.
Regardless of whether you wish to order food, if you are planning to come on the walk, please ring Kathy & Paul Niblett on 01782 641967 (answerphone available), any time before the 29 May.
Stout shoes etc as usual. We don't expect mud: most of the route is on towpath, public footpath or street pavement.